The Company
Ufficiostile is an Italian company, markets, distributes, designs and manufactures office furniture, chairs and design accessories.
The company has its origins in 1979 but acquires the name and the trade mark Ufficiostile in 1994, operates mainly in Italy but serves several customers in Europe and sends its products all over the world since 1997.
The online activity begins in 1996 at the univocal address www.ufficiostile.com, the site takes on e-commerce nature in 2003.

At present, Ufficiostile has 11 show rooms in Italy, 05 warehouses for goods handling and 02 factories
Ufficiostile collection includes
Office furniture, desks, tables, benches, drawers and accessories, bookcases and storage elements .
Storage systems, filing cabinets, sliding metal cabinets.
Office seats, ergonomic, executive and operative armchairs, upholstered seats, waiting couches, benches, chairs and stools.
Partition walls and equipped. Floating floors, suspended ceilings, sound absorbing panels and acoustic systems.
Lighting and office lamps.
Special, customized, tailor-made products: upholstered furniture, armchairs, sofas, upholstery and fabrics, tables and desks for home and office, bookcases, sideboards.
These items are designed and manufactured upon request
The Ufficiostile collection includes its own products, products designed by ufficiostile and manufactured by third parties, products of other brands or famous brands distributed by Ufficiostile as an authorized retailer, in order to better meet the needs of the customer.
Servizi
Estimates and free 3D design within 24h. from the request.
Consulting and sales at the showrooms with the free help of architects from our staff, guaranteed at each location.
Free lighting projects.
Free acoustic systems projects
Transport service, delivery and assembly throughout Europe (payment service).
Fast delivery for different lines of furniture and chairs with average stock of about 8,000 items in our stores.
Short, medium, long-term rental service on the entire collection (excluding partition walls and metal cabinets for short time solutions)
---
History
1979
Year of birth of the company that initially operates mainly on the Capitoline market, based in Rome, where the sale of                          furniture and seating is complementary to that of photocopiers, typewriters, and, after 1986, telefax.
1991
The company moves its headquarters in the Infernetto area with a show room of 500 square meters and a warehouse of 1,000 square meters. The activity'                          exclusive sale and design of furniture and office seating proceeds locally up to1994 year in which it acquires the current name of Ufficiostile. Since then the company has maintained its registered office and a showroom in Rome in via Alessandro Stradella, 67
1996: Ufficiostile believes in communication with the consumers and so born the site www.ufficiostile.com, then the most important search engine was Altavista while in Italy the Arianna portal spread.
1999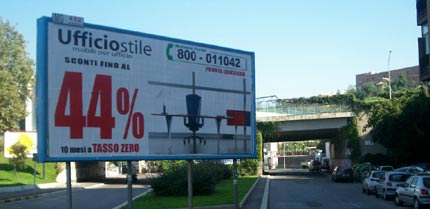 Ufficiostile opens a second showroom in Rome.                          In those years the trademark Ufficiostile begins to acquire notoriety thanks to the advertising communication through                          local media (maxiposter, commercials in cinemas, flyers) and national media (newspapers, magazines                          specialized, Radio, Pagine Gialle, Virgilio).
2000: Ufficiostile obtains certification according to the uni en iso 9002 standard,                          on the marketing and transport and assembly services of furniture and office furniture
2001
Ufficiostile opens a show room with an logistic warehouse in Milan (Opera), about 400 sqm of exhibition space. storage area                          about 1,000 square meters The sales point is born by marrying the cash and carry philosophy with a commercial policy                          of discount prices.
2002: Ufficiostile yostyle in the will to offer a service always attentive to                          needs of the consumers activates a customer service accessible at the toll-free number 800.011.042 active today.
2003
Ufficiostile inaugurates a point of sale in Rieti and creates its first collection of furniture and office chairs                          giving the press a catalog with a circulation of 30,000 copies.
The official website ufficiostile.com became an e-commerce website.
In Castelgandolfo, the Ufficiostile Golf open tournament is open to both professional players                          that to players customers. In the field of golf the company will also be co sponsors for the Italian Open                          held in Tolcinasco.
2004
Ufficiostile obtains the exclusive license of the Miami Swing brand by Renzo Arbore and distributes its products. In partnership with the architects Cappellini and Licheri Ufficiostile designs and produces the Dixie desk which, presented at the EIMU in Milan, competed for the gold compass.
2005
Ufficiostile opens a sales point affiliated to Pozzuoli.
The second collection of furnishing and office chairs signed by Ufficiostile is born, the products called to be part of it denote, in addition to the customary convenience, an expansion of the proposal towards design items.
2006
Ufficiostile opens a show room in the Prati neighborhood in Rome. In 2011, the exhibition area of the showroom in Via Angelo Emo, 100 will be doubled with the annexation of an adjacent building. Currently the office furniture show room in Rome North consists of about 600 square meters. exhibition on two levels with 12 windows on the street.
Ufficiostile create a subsidiaries company with Renzo Arbore and the architects Cappellini and Licheri aimed at opening a show room of Miami Swing products in via Margutta in Rome. The inauguration has more than a thousand appearances, the guests can appreciate the Ufficiostile Miami Swing concept store with a technical sponsor for Martini & Rossi cocktails.
2007: opens a point of sale affiliated to Naples.
2008
Expansion of the Ufficiostile collection and issue of the new paper general catalog reproduced in 50,000 copies and of the new Miami Swing catalog.
2009
Ufficiostile, in addition to the sale of office furniture, seats and accessories, and related transport and assembly services throughout the country, specializes in the temporary rental service. the ability to produce and deliver items on request and tailored, sometimes in less than 72 hours, to immediately find any high-design object in the world, to deliver products in a very short time, have made Ufficiostile a reference supplier of items for set-ups scenographic for the productions of RAI Italian radio and television, for commercials and cinematographic productions.
Ufficiostile has provided seats and accessories for different editions of the Sanremo Festival, for television broadcasts "Dancing with the stars", "See you on Sunday", "Glam", "The show of the records", "Quelli che il calcio", "Radiolondra", and many others show on Italian television.
2011
Ufficiostile opens a show room in Monsano (Ancona), annexed to the IFT plant. The partnership with the manufacturer Ideal Form Team comes from the project of creating together new lines of furniture.
Ufficiostile appears in the magazine Capital among the hundred best companies of the year.
2012
Ufficiostile produces its first operational line by naming it "Florence" and starts its internationalization process by tightening a joint venture with a Serbian industrial group in the presence of Prime Minister Ivica Dacic.
2013
February Ufficiostile opens a show room in Turin. The office furniture and seating area is located a few steps from the Torino Porta Susa high-speed train station, located in C.so Matteotti and consists of about 220 square meters
Aprile Ufficiostile inaugurates second show room in the center of Milan. The exhibition venue for office furniture and seating is located in the Corso di Porta Vittoria, a few steps from the Milan court and Piazzale Loreto. The show room of about 400 square meters. It is on two levels. The inauguration took place on the occasion of the Milan Furniture Fair 2013.
November Ufficiostile inaugurates the new exhibition in via Stradella, an impressive restyling for an exhibition area of about 1,200 square meters.
2014
Ufficiostile opens a new headquarters affiliated in Salerno, the exhibition office furniture and seating consists of about 250 square meters.
From the Ancona production plant, Ufficiostile presents the new sirectional line called "Torino" by Ufficiostile.
2015
Ufficiostile specializes in long-term rental of furniture and office chairs.
On the market the first collection of executive and operational chairs signed by Ufficiostile.
Creation of a new logistics platform in Ornago (MB) to serve North-Italian customers.
2017
Ufficiostile opens a show room in Bologna, S. Lazzaro area. The showroom of furniture and seating consists of about 250 square meters.
Ufficiostile presents the new operative collection "Ufficiostile 03".
2018
Design and production of a new line of reception desks.
Design and production of a new directional line.
New version (octave) for the ufficiostile.com site.